Interdenominational and International
We've had students from a large variety of churches and evangelical Christian persuasions. Our posture is the same as 17th century Lutheran, Peter Meiderlin, "In essentials unity, in non-essentials liberty, in all things charity." Our Spanish curriculum is English based, but we've enjoyed the international flavor that God has given us, with students from the United States, Canada, France, Holland, Germany, Australia, New Zealand, and Korea. You'll be at home here!
How many students are in each class?
There are usually 2 to 6 students in a class. This ensures that each student has the opportunity to interact with the instructor as needed while their progress is closely monitored. If it becomes evident that the students would learn more efficiently with smaller classes then we divide into two classes.
What about homework?
The average student should plan to spend up to two hours each day completing assignments and reviewing their notes. In addition to homework, conversation with nationals is a requirement for all students. Classes end at 1:00 p.m.  Many students will do their homework and/or speaking assignments, or emails between 1.00 and 3:00, and then eat the afternoon meal on the base. Your afternoons are free to do any number of activities in town with Spanish school or Mexican friends, your host families,etc. There are sports in town to play in the hours before and after nightfall. And there are nearby towns easily visited. There are also several churches within a half hour of us for Sunday services.
How long is the course?
If you start from the beginning the course consists of 4 levels that last seven weeks each. Including short breaks of normally one week between each session of classes, the entire course lasts about 8 months. There is a longer break in August and in December. Specific dates can be found at the Calendar page link above. There is also a Placement Evaluation that can be downloaded and completed if you wish to see if you can test out of a level or more. This can be found on the Applying and Placement tab above.
How will I be evaluated?
In addition to both written and oral exams given during and following each level, students may be evaluated using criteria of the American Council on the Teaching of Foreign Languages. Many schools have given credit to our students who go on to university. We're happy to write a transcript describing your classes and your grades if you so request.
Will I be fluent when I finish?
While individual aptitude determines this answer in part, motivation plays a larger role in determining how far you will have come by the end of the course. Fluency requires diligent study, good listening skills, and a great deal of practice. The level that you attain is as individual as you are. Some are fluent after the eight months. Others obtain fluency as they continue to practice what they've learned among national friends and coworkers. In the classroom we'll fully take you through the first four levels of language learning. Level 5 is native fluency, which cannot be taught in a classroom, and can only be achieved after years of cultural integration and motivation. A great and realizable goal!
How can we pay for tuition, rent, and living expenses while there?
Tuition can be paid by various means to our mission office in Oklahoma in dollars, if you'd like. The necessary information for this is found on the "Costs" page on this website. Or it can be paid in Mexican pesos, at the same national currency to peso exchange rate that you received. Virtually everything here is paid in Mexican pesos! Unfortunately we can't accept living expense funds through the Oklahoma office., due to non-profit accounting issues. The best way to obtain pesos is through an ATM machine. Checks are useless here, and very few businesses accept debit or credit cards. Cash exchange in a booth or bank don't give you the best exchange rate, and are often quite inconvenient. ATM's offer the best exchange rate, and are available in our nearby towns. Please advise your bank that you'll be making withdrawals from Mexico during your stay here so that they don't freeze your card due to suspicious activity! The missionaries among us all use the ATMs, and have had no difficulties at all.
Which travel methods and destinations are recommended?
If you choose to fly instead of driving (a 26 hour drive from the border), there are two good routes. You should choose the most convenient one from your point of origin. United, Delta, and American Airlines offer direct flights from cities in the United States to Huatulco (HUX), as well as many others routing through Mexico City (MEX). The Hualtulco airport is two and a half hours from us, but we're happy to make the trip for you. There is a charge of $90 US, or its Mexican peso equivalent, per vehicle for pickup for those arriving to the Huatulco airport, and another $90 per vehicle for those leaving from the Huatulco airport. Another option is to fly into Mexico City (MEX), and from there into Puerto Escondido (PXM). This airport is thirty minutes from us. For those arriving at the Puerto Escondido airport there is no pick up charge. United Airlines has recently begun to book fights using the MEX/PXM route, booking all the way through from the States with a layover in Mexico City. Or you can book MEX to PXM online from the following in-country airlines that fly here, Vivaaerobus , Interjet , and Aeromar. Also, Aerotucan flies from Oaxaca City to PXM, if that's most convenient for you. We're blessed to accommodate you however you arrive. And we're happy to give you good road directions, or to pick you up at the airport that best suites you. If you miss a flight then please email us immediately or call us at 958-103-1867, or 954-107-3380, or 954-101-5854 inside of Mexico. If you're calling from outside of Mexico then you must dial 011-52-1 before the numbers written above.
Are there dress and behavior policies?
As a student you will be asked to adhere to the policies of the Roca Blanca Mission Base regarding dress and culturally sensitive issues. For details you can go to http://rocablanca.org/get-involved/orientation. Although this page is really designed for short term teams, you'll find useful cultural and packing tips there! We also talk quite a bit about cultural dress and behavior norms in our first day orientation in class. The primary issues are modesty and discretion for the sake of our indigenous friends and neighbors, whose norms may be quite different from those of some students. If you have any particular questions regarding piercings, tattoos, types of clothing, etc., please fell free to contact us about them!
What is there for childcare and children's schooling?
One option for baby and toddler care is with a local family at their house near the mission base for the four actual class hours, 8:00 to 10:10 a.m., and then 11:10 a.m. to 1:00 p.m. Between 10:10 and 11:10 the children eat almuerzo (a kind of late breakfast) with their parents in the common dining room with everyone else. The students currently pay 50 pesos (around $3.00 US) a day  per child for that service.
On the Roca Blanca base there is a Christian Pre-school, Elementary, Middle school, and High school with some classes taught in English, the rest in Spanish. Children of our Spanish school students are very welcome, and there has always been a space for them in the classroom. The cost for these schools is around $50/month (US) per child. The school uses mostly ACE (Accelerated Christian Education) curriculum at a discounted cost of between $200-250 US per child for the year.
If your child is sixteen or older, and speaks English, another option is to do their classes online with a fully accredited program available to us where they can finish grades nine through twelve with career training included within six to eighteen months.
For schooling with zero English, if you prefer, in Cacalotepec (our little town) there is a national elementary school and a televised middle school. In Rio Grande (a 10 minute drive from here) there are more national schools, elementary, middle, and high school. Homeschooling has been successfully done by some students, as well.
What things should I bring?
You'll want to bring a set of twin sheets if single, double sheets if married. Also towels and washcloths would be handy. Linens here are quite expensive and good quality linens are not easy to find! It's advisable to have something warm to wear for the occasional mountain trip. Also, if you bring a Spanish Bible, we use the NIV version for levels 1 and 2, which will be used in class most days. The Reina Valera 1960 version is used for levels 3 and 4, and is the most commonly used version in the Mexican churches. A good dictionary will be a help, although not absolutely necessary. A few small items from home are a nice addition for your lodging. Insect repellent and suntan lotion is advisable, and any medicines or personal items that may not be available locally. Please feel free to write about any other items you might be wondering about.
What about visas?
There are a few kinds of visas that may apply to your stay here. The most common and easiest is the standard tourist visa. That's given to you at no cost, and you'll fill it out when you cross the border by land or on the airplane by air. This visa is sufficient to come and study Spanish under, and is normally given for six months. The lodging address to write on the tourist visa is: Roca Blanca Mission Base, s/n frente a la playa Roca Blanca, Cacalotepec, Oaxaca. With a tourist visa, if your Spanish school time goes beyond the six months then you'll need to make a border crossing before it expires, some taking advantage of a quick bus ride to the Guatemala border to cross and reenter, which is significantly closer. You do not need a "student visa" for our school. That visa is for those coming to study in a Mexican university for longer than a year. There are also various resident visas that will be necessary if you're coming to live or do public ministry in Mexico. In that case, your sponsoring church or organization will help you with the application process.
What about telephones and Internet?
Your present cell phone provider may offer an inexpensive Mexico plan. This is usually the best and most economic way to use your cell phone here. Or you can unlock your phone and use a Mexican carrier's chip. You'd have to investigate on the best way to do that. Or cell phones can be purchased here for around $30 US and up. They use pay by minute plans, usually at the rate of about 6 cents US a minute.
We have a secure Internet Wifi at the Spanish school for about $7 US a month.  Very few homes have Internet service in our town as yet, and the town coverage is not as fast or reliable as what we have on the Spanish school. The Internet in the Spanish school won't be as fast as you're accustomed to, but it works well.
What about health insurance while there?
There are a few different options for health insurance here. Some come with no insurance, depending on the local hospitals for normal medical issues, which is far less expensive than similar things in the US, i.e., chest x-ray $15 USD as opposed to $200 USD Stateside. We also have a Clinic on the base that is able to take care of the normal day to day medical necessities for most.
Some students come with a plan that they've kept from their home country that covers them while here. Others find a missionary travel type plan, of which there are many. Look here, for example: http://www.missionaryhealth.net/brigada/. We also suggest doing a search for "insurance" at http://www.brigada.org/search-brigada for possible additional plans that are advertised on that site.
Do you do fun and cultural activities?
We organize various cultural and/or fun activities in each session for those who wish to participate in them. There is usually a modest cost. Some of these are snorkeling, scuba diving, horse riding, hot springs, waterfalls, river hikes, beach activities and nighttime campfires, fishing, surfing, cooking classes, visits to a coffee plantation, Oaxaca City and Monte Albán, and museums, along with other typical cultural events in and around our area.
Missionaries have come to us from…
WEC Intl, Wycliffe Bible Translators, To Every Tribe, Pioneers, In His Image Medical, Global Frontier Missions, Christian Missionary Fellowship Intl, World Indigenous Mission, YUGO, Growing Gardens For Life Intl, Reaching and Teaching Intl, Victorious Christian Harvesters, Mennonite Brethren Mission, Shadow of His Wings Orphanage, Great Door Ministries, World Impact, Esperanza Health, One Mission Society, New Day Foundation, Mexican Medical Ministries, Victory Missions, Grace Aire, Intervarsity Christian Fellowship, Vineyard Church, Calvary Chapel, International House of Prayer, Victory Latin American Outreach, Commission to Every Nation, Missionary Gospel Fellowship, plus Independent Baptist churches and independent missionaries.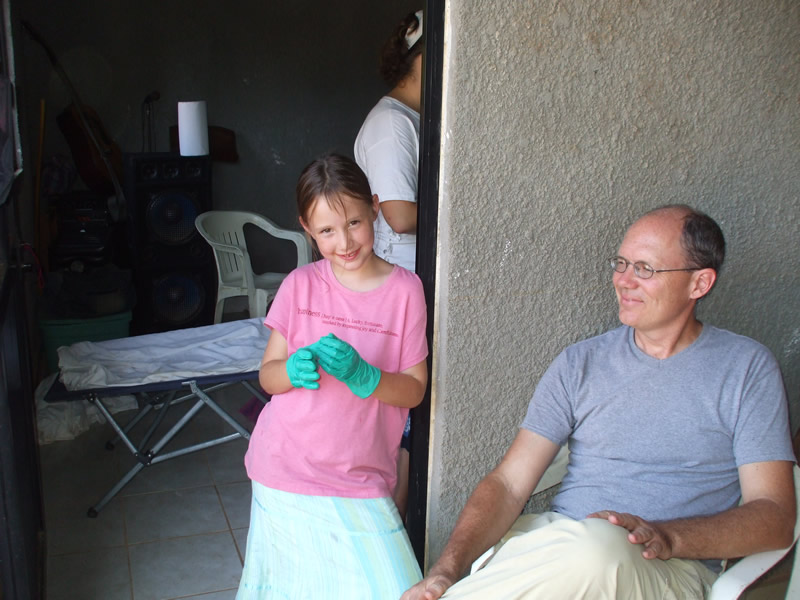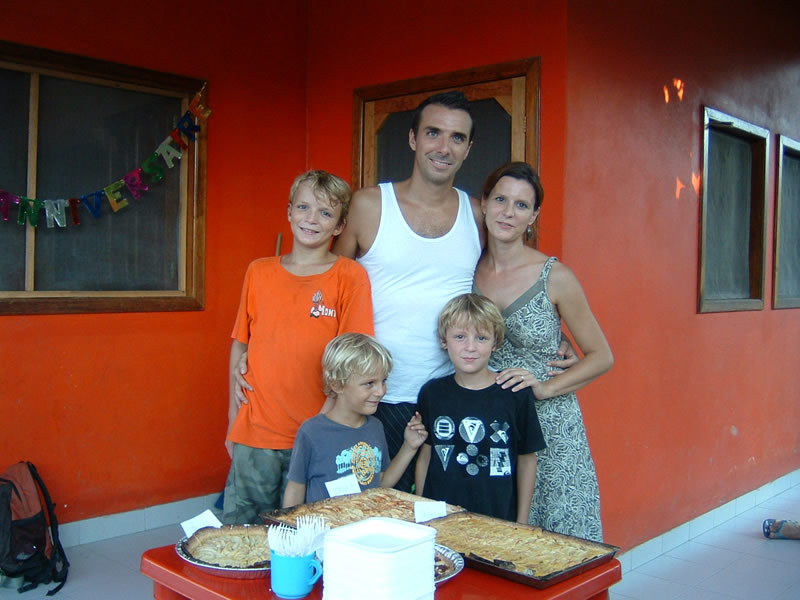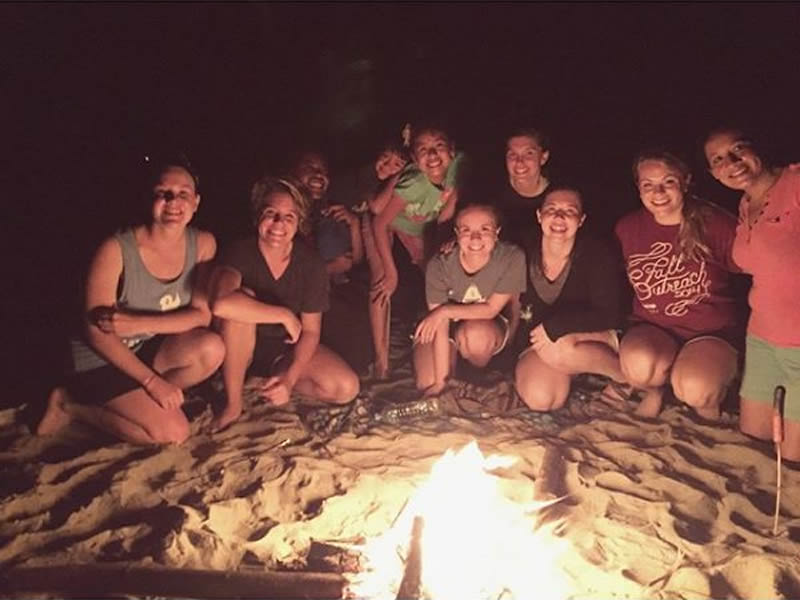 "The Roca Blanca Spanish Language School has been an incredible tool in my life, helping me not only to understand but also apply what I'm learning on a daily basis. Learning is fun and the atmosphere is comfortable and energetic."